PCC Rokita SA under ethical scrutiny of EcoVadis – High notes of the Company as a participant in the supply chain of global companies.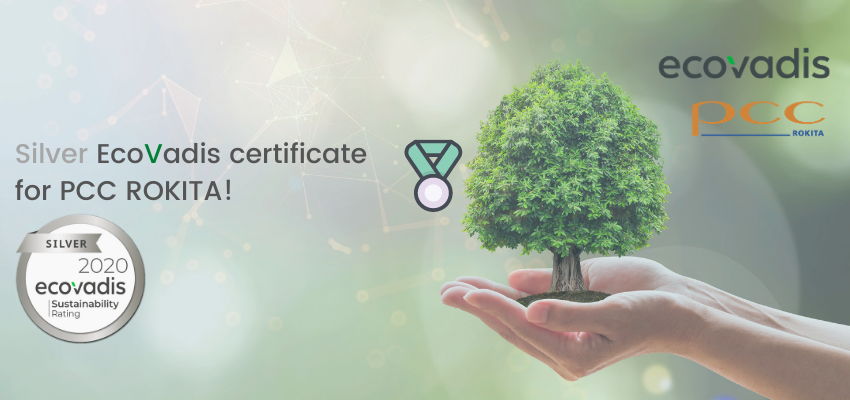 PCC Rokita Group maintained the silver level of corporate social responsibility awarded by analysts of the EcoVadis platform. The company has been invited to report on this international platform as part of the supply chain of 27 global companies operating in various industries.  The assessment of EcoVadis is one of the most important criteria for the selection of suppliers. In the same year, PCC Rokita increased its score compared to 2019, reaching a total of 60 out of 100 possible points. This result ranks PCC Rokita Group among 25% of the best companies rated by EcoVadis:
The EcoVadis team, which evaluates the reports of over 65,000 organizations, has several hundred experienced experts representing about 40 different nationalities. The silver level of CSR is a very important and extremely prestigious distinction, awarded for ecological development and achievements in the areas of environment, employment, fair business practices and the supply chain. 
Given the global scale of the EcoVadis business, PCC Rokita  is one of several dozen chemical companies operating internationally that regularly carry out comprehensive self-assessment as part of their activities for sustainable production, consumption and social responsibility. The platform's statistics show the implementation of sustainable development practices, both in highly developed countries and in regions that are at the beginning of the road to stable economic growth. Moreover, the EcoVadis assessment is one of several key elements of the qualification systems of suppliers of companies operating in various sectors of the economy around the world.
An important fact is that the PCC Rokita Group is in the group of highly rated companies operating in the chemical industry in the world.  Among the market players representing the chemical industry, who have maintained the highest EcoVadis scores for years and qualify their suppliers through this platform, there are companies such as: DuPont, Akzo Nobel, Syngenta, Evonik, Clariant, Saint Gobain, Bayer or BASF.
EcoVadis operates the first platform enabling companies to assess contractors in the supply chain. The platform uses its own technology and a network of several hundred experts to provide simple and reliable CSR scorecards. These cards cover more than 190 categories of purchases, 21 CSR indicators and 160 countries worldwide. EcoVadis makes it easier for businesses to reduce risks and improve innovation and efficiency in their logistics networks. Through the EcoVadis platform, more than 65,000 companies demonstrate their  activity in the area of corporate social responsibility every year, including in order to increase transparency and trust between business partners.
You can download the certificate here.