REACH Regulation
Basic information
REACH Regulation came into force on 1 June 2007. It applies directly and does not have to be introduced to the Polish law. It superseded several dozens of legal acts that had applied until this date.
REACH Regulation – Regulation (EC) of the European Parliament and of the Council as of 18th December 2006 concerning the safe use of chemicals by registration, evaluation and in some cases authorization and restriction of trade in some chemicals.
Main objectives of REACH Regulation
Protection of human health and natural environment
Maintenance and development of the competitive advantage of European chemical industry
Protection against the fragmentation of the internal market
Increased transparency
Integration with international efforts
Prohibition of animal testing
Compliance with EU obligations resulting from WTO membership
Registration deadlines
After the regulation comes into force every substance marketed within the Community in an amount exceeding 1 tonne will have to be registered by the manufacturer or the importer with the European Chemicals Agency.
The registration deadline and the type of the required registration documentation will depend on the annual turnover. Refusal or lack of registration will exclude the substance from the community market.
Efficient registration process of the marketed substances is to be ensured by means of a timetable, where the registration of substances has been distributed over a period of 11 years from the date the REACH Regulation is implemented.
The dates of registration of a chemical substance are strictly defined, in accordance with the REACH calendar: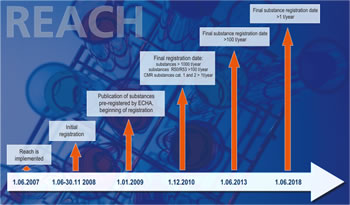 What types of chemicals are regulated by REACH?
The regulations of the REACH Regulation cover virtually all chemicals, however a number of them, such as e.g. plant protection and biocidal products, medicinal products, cosmetics, or food or fodder supplements, regulated by separate community regulations, are exempted from the application of some or almost all provisions of the regulation. The regulation does not cover substances of natural origin, provided they are not dangerous and have not been chemically modified.
Registration of chemicals at PCC Rokita S.A. covers all substances manufactured by business units and subsidiaries.